The gang at WhiteRockBeach.ca and Virtual Edge Communications are eager to help you get your business online for the world to see.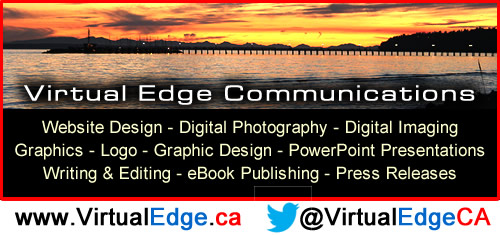 What makes Virtual Edge Communications experts?
Our foundation was commercial photography and graphic design. Commercial photography's main intent is to generate exposure and/or revenue for those who purchase it. Our graphic design background has been through hands-on participation in various forms of advertising including newspaper and magazine work, as well as product catalogues. Printed advertising is composed of three elements: photographs, graphics, and text. Successful campaigns combine all these effectively. People think in pictures and photographs, graphics, and the use of colour grab customers' attention. The text or words help support the visuals.
Advertisement
We find web sites can outperform the three elements of printed pieces (photographs, graphics, and text). Web sites often include photographs, graphics, and text; but can also include animation, sound, video, forms to collect information, and the ability to make changes with little to no expense. Use of the Internet connects you to the world instantly. Coupons can be listed on web sites for download, costing the web site owner nothing for ink and paper. Even YouTube can be used to promote your business or products.
We are eager to give you a good deal.

Promote White Rock Beach and your name / business / website to the WORLD. Some of our sponsors include White Rock Pharmacy, White Rock Photo, José & Co. Custom Jewellers
Ideal for individuals and families wanting to have a memorial keepsake or businesses wanting a unique opportunity to maybe gain more recognition by having their business name and website purchased by local residents and tourists as keepsakes or to be mailed around the world.
White Rock Postcard Photographer Ric Wallace - Mr White Rock on Shaw TV
These are some of the current White Rock Beach & area postcard retailers:
NOTE: Some retailers will have limited postcard selections due to space
This is the
ONLY location
you can see all
101+ White Rock / South Surrey postcards
& greeting cards on display at the same time (even the winter and Christmas postcards - weather and time permitting).